Gear list
Consoles
Amek Angela (early blue version) w/ 36 mic pres (ex Steve Hacketts of Genesis ,as seen on the BBCs "Play it Loud: The Story of the Marshall Amp").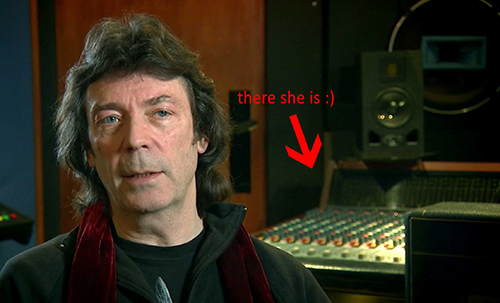 Amek BCII with Langley Pres
Sony MCI mxp 29 Side car
Recording
Protools 11 64 bit (+ Protools 10)
OTARI MX80 24 track 2 inch tape machine w/ new heads
STUDER A807 mastering 2track tape machine
IZ RADAR 24 digital interface
Mark Of The Unicorn 2408 (Midi interface)
Mark Of The Unicorn 828mk2 (location recording)
Ampex 499 or 456 tape (NOS)
Monitoring
Genelec 1031a Near field
Genelec 1094A Active Subwoofer The "Ferrari of the subwoofers".
Genelec 7050 sub
and you guessed it......Yamaha NS10s
Outboard
EMT 140 stereo (valve) plate reverb (NOT the plugin which we also have)

NEVE 1073 mic pres X2
ROLAND Space Echo re200 (super rare early version)
DBX Supergate
DBX deesser
Roland SDE-330 reverb/delay
Roland SRE-3030 reverb/delay
2 X Alesis Midiverb II
Yamaha SPX90 mk2
Drawmer MX30 comp/gate
Drawmer LX20 comp/gate
Modded TMP1 Valve mic pre
6 X DBX 266 compressors/gates
SSL 4k mix buss compressor
Lexicon PCM 91 reverb
Microphones
Vintage Neumann U87i (sounds amazing)
Neumann KM184 X 2
Neumann TLM103
SE z5600a MK2 Valve mics X 2
Sennheiser MD441U (Fleetwood mac Rumours Mic)
Sennheiser MD421
Beyer Dynamic M160 Ribbon mics X 2 (AKA the Bonham mics)
Shure Unidynes
Shure sm57 x5 (2 traffoless)
Shure sm58 x5 plus beta
AKG D112
AKG D12e
Shure SM7
Audio Technica pzm boundary mics
Digital
Protools 11
Nuendo 5
Slate digital
UAD 2 plugins
Too many plugins to list get in contact for details!
Sony Sound forge
Instrument amps
Fender "The Twin" all tube w/spring reverb combo
Marshall 1959 (Handwired) 100watt superlead Plexiglass
Marshall 1960x 4x12" cabinet (w/ Greenbacks)
WEM Dominator 30watt Mk3 (modded tone monster)
WEM Dominator BASS 50watt Mk3
WEM Westminster 15watt
2 x WEM 4x12 vintage cabs
Park 25w spring reverb amp
Laney Bass amp and 1x18" cab
Mark Bass amp and cab
Drums
Yamaha 9000 Drum kit
Ludwig 402 1975 snare
Tama Snare
Loads of percussion!
Keyboards
Hammond (sounds amazing)
LESLIE speaker (with 30w tube amp)
Yamaha DX7
Yamaha string machine
Nektar Panorama P4
many in the box synths as well
Various
Violin
selection of vintage guitars and basses
Mandolin
Recorder (yes the one you played at school)
Banjo plus many more crazy things that may work for your production.